README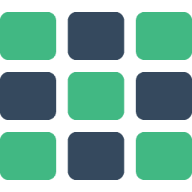 vue-grid-layout
---
What is Vue Grid Layout?
vue-grid-layout is a grid layout system, like Gridster, for Vue.js. Heavily inspired by React-Grid-Layout
Features
Draggable widgets
Resizable widgets
Static widgets
Bounds checking for dragging and resizing
Widgets may be added or removed without rebuilding grid
Layout can be serialized and restored
Automatic RTL support (resizing not working with RTL on 2.2.0)
Responsive
3.0.0-beta1 (Supports Vue 3.x) Current version:
Modification notice
Code modified by Carter Li, from the official vue3-webpack branch
Changes:
Migrated to TypeScript, and found a bug when migrating
Lots of code refacters, dead / commented code removals, ES6+ syntax migration.
Use resize-observer-polyfill instead of element-resize-detector for better performance
General dependencies upgrades, also removed some unused dependencies.
Usage
<template>
<grid-layout
  v-model:layout="layout"
  ...
/>
</template>
<script>
import { GridLayout, GridItem } from 'vue-grid-layout-eoi';
import 'vue-grid-layout-eoi/dist/style.css';

export default {
  components: { GridLayout, GridItem },
  data() {
    return {
      layout: {
        ...
      },
    };
  },
}
</script>

See also the official demo: https://github.com/CarterLi/vue-grid-layout/blob/master/src/demo/App.vue#L39